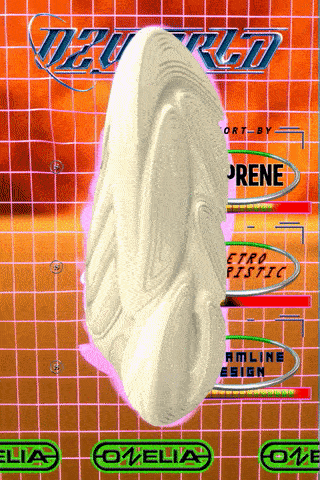 INTERVIEW ON DIGITAL ART IN BRANDED ENVIRONMENTS.

Fantasy and whimsy mixed with absurdity has always been an interest of mine, these alternative realities allow for new kind of environments for which I can imagine stories to take place yet keep a certain irony and be relatable.


3. When did you start getting your hands on digital art? What attracts you the most to do digital art and what are the biggest challenges you face when making digital art?

Ive always been into the idea of looping paintings, these compositions that have just enough movement to breath an infinite life into the piece and make it feel alive.


4. How do you see the connection between digital art and technology?

Technology has a lot to offer digital artists work from interactive game engine environments to artificial intelligence. These approaches are not just useful for the end art piece but also change the way in which artists can come up with ideas and explore the terrain of the practice.


5. Between digital art and physical art, what are the connections and differences?

I think the closer we can merge the two the better, physical objects and environments taking cues from 3d design and virtual worlds taking cues from nature. Both are going to drive some interesting explorations over the following years.


6. What is OZWorld from your perspective, how it looks like in your mind? and What is your impression about adidas Originals OZWorld sneakers?

I think its an entrance for brands like Adidas to play in the gaming space. This is super cool as this will most likely be the more interesting playground for the advertising landscape. And of course the shoe itself is taking cues from gaming aesthetics and digital culture which is a natural tie to bring the gaming world back to physical product.



7. Could you share with us the concept/story behind your work? How do you visualize the product features via art/design?

I like the duality between two contrasting worlds, a dangerous fire apocalyptic power split right in half between the pleasantry of blue sky and clouds.


This constant loop creates an energy that for me feels like cross dimensional travel between tomorrow's gaming existence and yesterdays natural utopia.


8. How do you create this digital world for a product?

The production process behind this digital world was all made in Blender, a 3D application suitable for the fabrication of any reality you desire. This software is used in many gaming production pipelines.


9. The work you created for adidas Originals is somehow also digital fashion at the same time, how do you think about digital fashion and its future?

There is a massive future for digital fashion, everything from garments and footwear for gaming environments, where you customize your avatars with contemporary branded clothing.


We are living through our phones throughout a majority of the day so it only makes sense that digital fashion plays a role in augmenting a layer over ourselves throughout social media and video conferencing mediums.